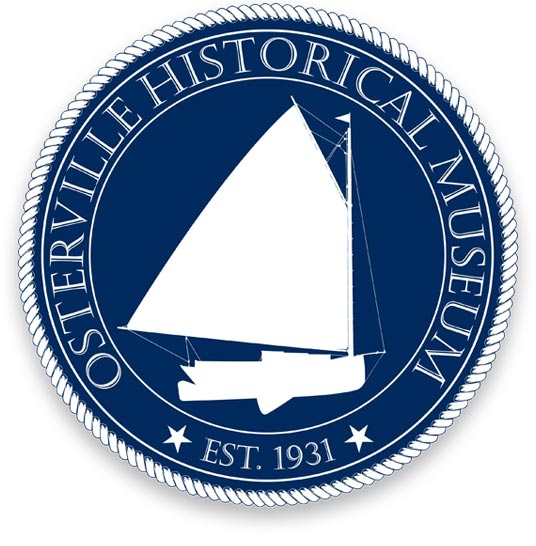 Matthew M. Schulz's love for the outdoors began at an early age venturing afield with his Grandfather, John B. Farrington(1925-2008) on the salt marshes in Barnstable and the woods of Maine.  These experiences became the genesis for what would become a love affair with painting. "I was always interested in Color and Light, even as a child and I believe that it was my Mother who first recognized and helped cultivate my love for both."

Painting, which began with a narrow focus of Wildlife Art and Duck Stamps evolved into an ever broadening passion.  Matthew cites the 19th Century artists Frederick E. Chuirch, Albert Bierstadt and Winslow Homer as being very influential, as well as contemporary artists Robert Bateman, Andrew Wyeth, John Stobart, Paco Young,  Robert Douglas Hunter.  Interestingly enough, the only other artist in the family is Matthew's 4x Grand Uncle, 19th Century Artist Clement Drew (1806-1889) 

 "Of course, every New Englander knows Andrew Wyeth's 'Christina's World' and to a lesser extent Wyeth at Kuerner's, but it wasn't until I was sitting in a mandatory Art History class, that I became more interested in the Landscape.  While the University of New Hampshire had a great studio program, training students classically from the human figure, I found myself bored with this subject matter. So, I started flipping through the pages of the Artists' Magazine and came across an advertisement for The Beartooth School of Art. This School offered a five day course in Montana, painting en Plein Aire on the Boulder River with Paco Young (owner of BSA with his wife Toni) and a Wildlife Art course with John Seerey -Lester.  I talked it over with my parents and flew out in May of '99 for what would become my first of several artist workshops.  I laugh about it now, as I was completely unprepared for what I was about to experience.  It was mentally taxing to leave the comfort of classroom figurative painting in a University setting and jump into Plein Aire work outdoors subject to rapidly changing light and the elements."

Matthew graduated from the University of New Hampshire, 2001, BA in Studio Art concentrating in Painting and Printmaking.  His paintings have won numerous awards, including the 2007 Massachusetts Waterfowl Stamp and the Will Barnet Award for Landscape, at the "Big Picture Show", Salmagundi Club in 2010. He's been featured in American Art Collector Magazine, Cape Cod Life, the Artists' Magazine and has exhibited in International juried shows such as Birds In Art, Leigh Yawkey-Woodson Museum. His painting "Evening Amber", a gift by Christopher Samuel Hyland, is part of the permanent collection at the Cape Cod Museum of Art and was featured in an unveiling reception at the Bank of America-Hunter Gallery.  He's an artist member of Oil Painters of America and the Salmagundi Club, NY, NY since 2007.
Click on a picture to enlarge and purchase.
Remember, 30% of every sale goes directly to the Museum.
Thank you!
Pandion Whites
Oil on linen – 24″ x 30″
Osprey with Herring
Price $11,000.00
Summer Reds on Return
Oil on linen – 24″ x 36″
Catboat North Bay
Price $16,500.00
Windrush Echos
Oil on linen – 18″ x 24″
Price $7,500.00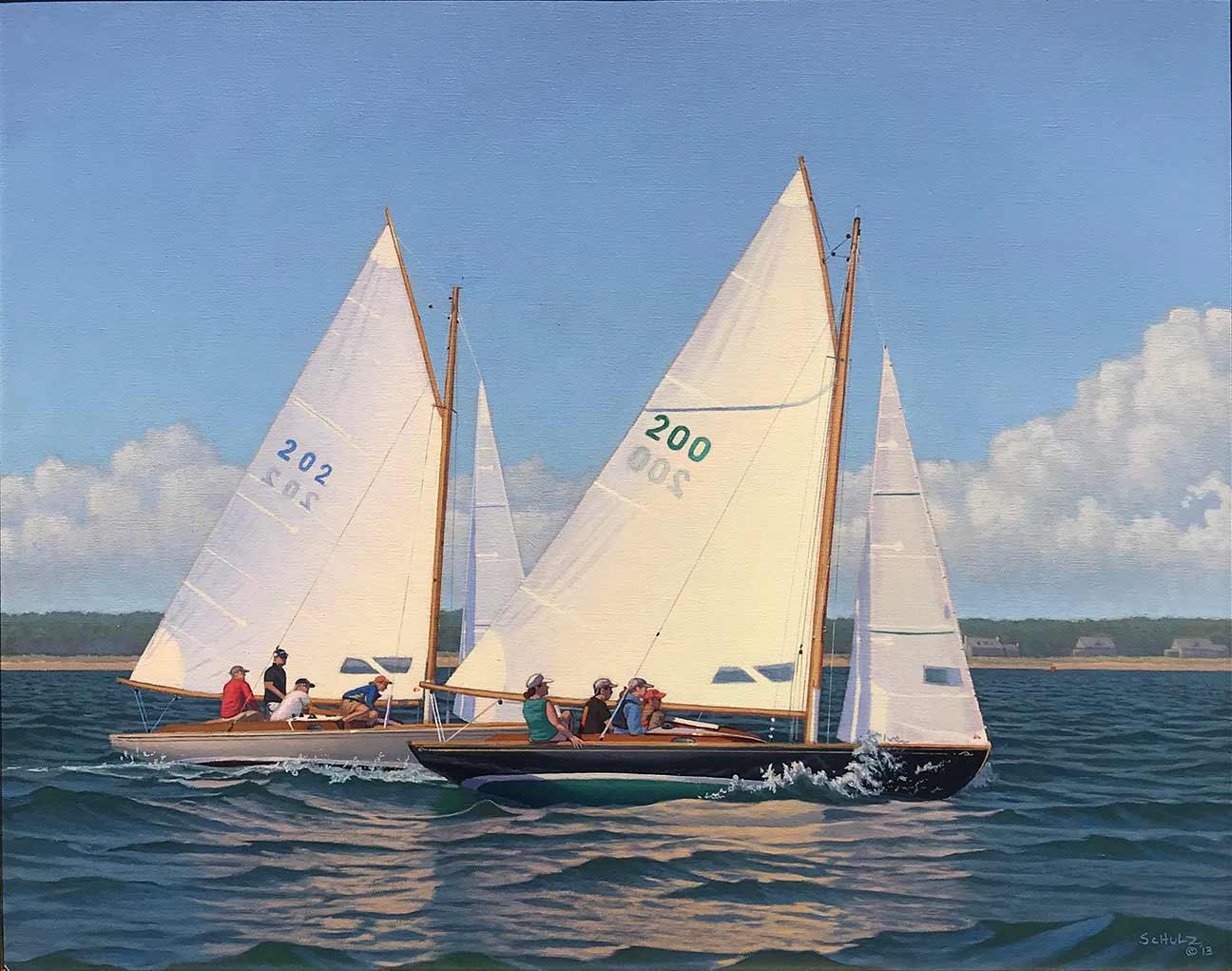 On the Move
Oil on linen – 24″ x 30″
Wianno Seniors Aowyn 202 andAurora 200 approaching the mark.
Price $10,500.00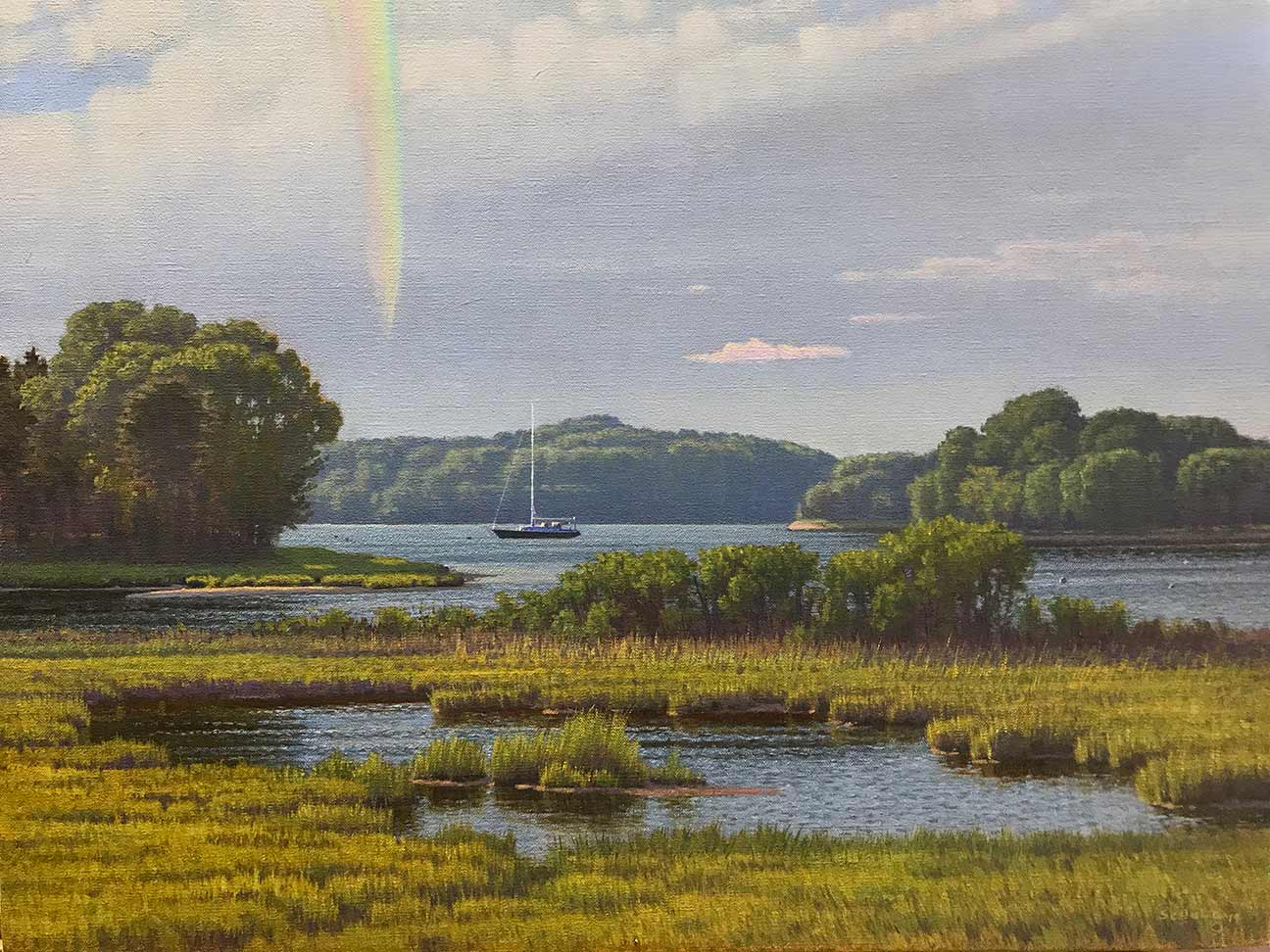 The Coming of Summer Greens
Oil on linen – 18″ x 24″
Marsh at Little Island looking towards North Bay
Price $7,500.00